What Liverpool can expect from new signing Minamino – more Mini-Firmino than 'Japanese Neymar'?
Liverpool have become the first Premier League club to act in the January transfer window, having agreed a deal to sign RB Salzburg and Japan forward Takumi Minamino.
Minamino, 24, is a pacy forward whose European career so far spans five full seasons in the Austrian Bundesliga, where he's averaged roughly a goal every three games across 131 appearances.
He played in both Salzburg's Champions League defeats to Liverpool this season, during the first of which he scored a goal that literally left a smile on Jurgen Klopp's face.
Why have Liverpool signed Takumi Minamino? Five key facts…
Liverpool have now officially triggered Minamino's release clause.
They have beaten several leading European clubs to the signing of the versatile forward.
No one has assisted more Champions League goals from open play this season so far than Minamino (3).
According to analytics experts smarterscout, Minamino's profile is similar to that of Adam Lallana in 2016/17.
The injury-prone Reds attacker's Liverpool contract expires next summer.
You can explore Minamino's data output yourself by signing up to smarterscout.
Did you know? Minamino played alongside Diego Forlan at J1 League side  Cerezo Osaka.
As you might expect, Klopp was not forthcoming on the subject of Minamino's potential arrival during recent press conferences. The affable German tactician was coy about any potential new additions but has now moved quickly to bolster his ranks as he looks to see out the Premier League title race during the second half of the season.
So what can Liverpool expect from their new recruit? With a little help from Smarter Scout, who you can follow on Twitter @smarterscout, we came up with some answers.
We can confirm an agreement has been reached with @redbullsalzburg for the transfer of Takumi Minamino 🙌

リヴァプールフットボールクラブは南野拓実選手の移籍についてレッドブル・ザルツブルクと合意に達したことを発表する pic.twitter.com/2yH2N0v3Y1

— Liverpool FC (@LFC) December 19, 2019
Where does Minamino actually play?
You couldn't say Minamino is a player who's been pigeonholed. According to smarterscout, he's clocked up over an hour's worth of game-time in no fewer than six different positions this season so far:
Minamino in the Austrian Bundesliga:
RM/RWB: 356 minutes
CAM/SS: 72
CM: 148
LM/LWB: 134
LW: 82
CF/ST: 61
Versatility is useful when you have a manager who changes formations with some regularity. Salzburg head coach Jesse Marsch appears to have spent the first third of the 2019/20 Austrian Bundesliga campaign fielding a 4-4-2, in which Minamino played right-midfield. More recently, this has become a 4-2-2-2, where Minamino usually plays on the right side one row behind the strikers.
In the Champions League, the diamond used by Salzburg in their final two outings against Liverpool and Genk captured the imagination of analysts. This system moves Minamino to the tip of the midfield quartet between strikers Erling Haaland and Hwang Hee-chan, and is reflected in smarterscout's minutes-by-position breakdown for the Japan international in continental competition.
Minamino in the Champions League:
RM/RWB: 72
CAM/SS: 347
CM: 47
In both competitions, Salzburg will also field three central defenders now and again, as was the case in their 1-1 draw with Napoli. On such occasions, Minamino is listed as one of a midfield three stationed behind the attack. It should also be noted that Minamino played the vast majority of his minutes last season at CAM.
Minamino made clear his own personal preference position-wise while addressing his 'Japanese Neymar' nickname a couple years ago.
"The fact is that Neymar is one of the best footballers in the world, and I am just at the start of my career," he told Red Bull Salzburg's official website. "I don't want to compare myself to him at all. Should I ever manage to get as good as him then I would gladly accept this praise.
Minamino added: "I think I played everywhere in attack in Japan; on the left wing, on the right wing and in the middle. I definitely like that the most as I can have the most effect with my speed and assists.
"I think I can dribble really well, and I have a really decent shot. I can use my speed in one-on-one situations, but also in defending. I always try to support the defence while being ready to attack again as soon as we win the wall back."
Is Minamino Premier League ready?
"He's got great attacking output this season at RM by a [Premier League] standard, though it's a small sample size and his past numbers didn't suggest this kind of jump," say smarterscout. "He's mediocre in ground duels and a weak finisher."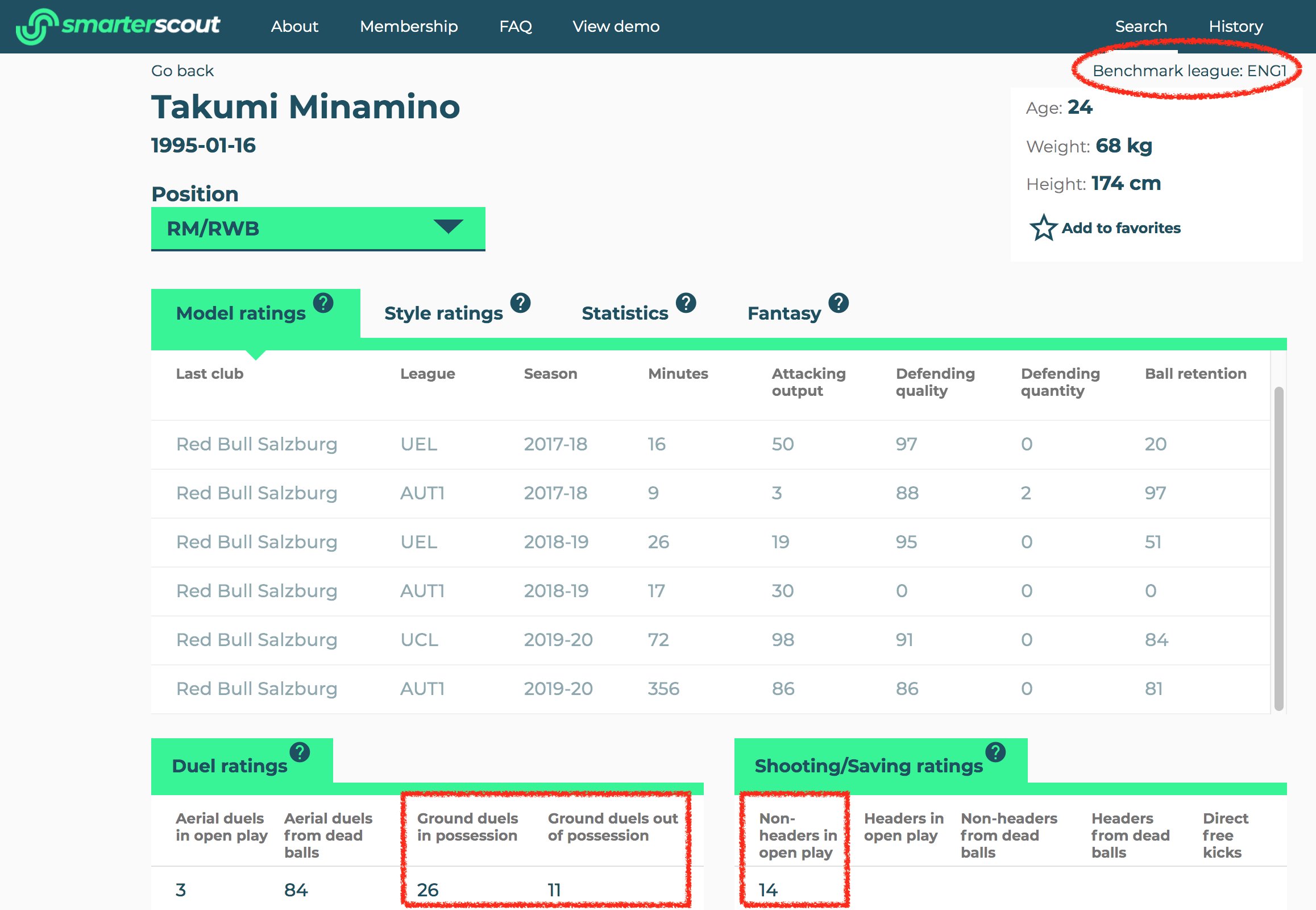 "By the standards of a RW, as in Liverpool's setup, Minamino's output wouldn't seem so high. [His] low work rate as a defender is a little worrying given the intensity of Liverpool's play. And don't tell us the club are considering him now after being impressed in their [Champions League] matches v Salzburg. [Liverpool sporting director] Michael Edwards and company would have had tabs on him for years."
The idea that Minamino demonstrates low defensive work rate would appear to chime with the opinion of Ralf Rangnick. Red Bull's head of sport highlighted the Japan international's willingness to "invest in the team's efforts" while discussing his prospective move to Liverpool this week, but smarterscout highlight how context is key with data.
They add: "That low work rate could be partly an artefact of the Austrian Bundesliga, with its slower pace. And at RM, he's being compared to true midfielders and wing-backs. When Minamino has played in UEFA competitions, his defending has been more aggressive, at least as a CAM."
So who can Minamino be compared to?
For anyone trying to mentally visualise Minamino's style of play, the 'similar players' search function on smarterscout paints something of a picture.
Minamino's attacking output in Austria's top flight ranges from an 87 at RM to an 89 at CAM/SS in the Champions League in 2019/20. Like all smarterscout ratings, those numbers are based on a scale of 0 to 99 and, in Minamino's case, they represent quite a jump from last season.
"In the previous two seasons, he played mostly CAM/SS, with average at best attacking [output] for the Premier League," smarterscout add, "and a style similar to Lallana (in 2016/17) and Roberto Firmino (when used at CAM last season)."
Widening the filter to include players of other major leagues across Europe throws up an interesting name: Nabil Fekir, who Liverpool famously came a failed medical away from signing after the 2017/18 season.
What Minamino appears to lack by smarterscout's analysis of last season, such as dribbling (13) and attacking output (35), he makes up for in terms of shooting (86) and link-up play (97) to rival Firmino. Salzburg's pressing game, meanwhile, may be behind his ratings when it comes to disrupting the opposition and recovering possession, something Klopp will welcome.
Minamino's 'Receive in box' vs 'Pass toward goal' scores suggest a player getting on the end of attacking moves rather than facilitating them, however. Then again, this is a player who has 11 goals in 22 caps for Japan.
How could he fit in at Liverpool?
It's difficult to square Minamino's season so far at right-midfield or CAM with the formation Liverpool usually deploy, but we've witnessed Klopp become a little less wedded to his 4-3-3 in recent weeks. Against both Everton and Watford, Liverpool lined up in a 4-2-3-1 that presents a slot on the right for Minamino to contest with Xherdan Shaqiri.
Or maybe Klopp admires the Red Bull project so much he'll field his own Marsch-inspired midfield diamond? It is, of course, most likely Minamino would be developed slowly to adapt to the Liverpool system rather than the other way around, in which case he may either represent cover for all three positions.
However, if there's one thing Klopp can offer like few other managers right now, it's game time for back-up options given how crowded Liverpool's fixture list has become.
How to use smarterscout: the new football analytics tool