Premier League 2022/23 Heart vs Head predictions: Where all 20 fanbases think they'll finish vs stone-cold probability
The 2022/23 Premier League season starts today, which means it's crunch time for your predictions.
Sky Bet recently updated the results of their Fan Hope survey for 2022 for July, mapping the expectations of all 20 fanbases by asking (among other things) where they thought their teams would finish in the new season. Thousands of responses were used to create an average, in turn used to produce a league table of expected positional finishes.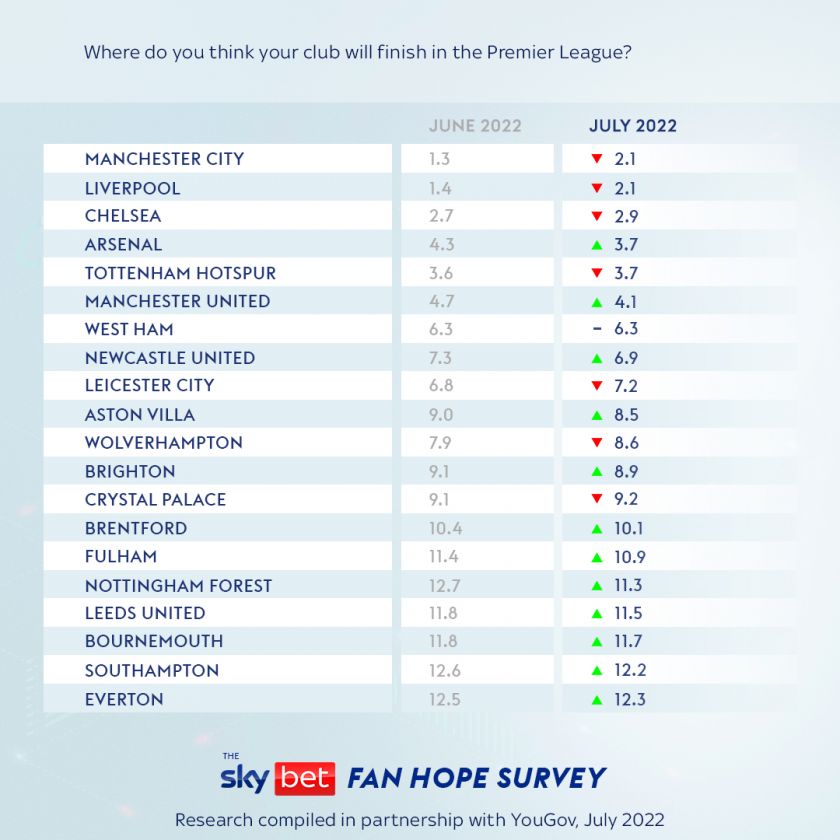 But fans of Premier League clubs often have a hard time choosing between their heart and their head when they have an invested interest in who finishes where. If you support one of the 20 clubs, even your most well-reasoned tip will be tinged by bias.
So for the sake of comparison, we turned to a different league table prediction, one about as objective as you can get. Opta's League Prediction model, according to Stats Perform's definition, "estimates the likelihood of teams finishing in each position in the competition.
"We can therefore see how successful a team's season is likely to be, whether it's their relegation or title chances."
So how does it work? Opta explained how they estimate "the probability of each match outcome (win, draw or loss) by using betting market odds and Stats Perform's team rankings. The odds and rankings are based on historical and recent team performances.
"The model considers the strength of opponents by using these match outcome probabilities and simulates the remaining fixtures in the competition thousands of times. By analysing the outcome of each of these simulations, the model can see how often teams finished in each league position to create our final predictions."
---
Sky Bet West Ham vs Man City Offer: Get 50/1 on a shot on target in West Ham vs Man City
NEW CUSTOMERS ONLY. MIN/MAX STAKE £1. FREE BETS CREDITED ON TOP OF WINNINGS. FREE BETS CREDITED WITHIN 72 HOURS. 5 X £10 BET TOKEN. FREE BET STAKES NOT INCLUDED IN RETURNS. FREE BETS CANNOT BE USED ON VIRTUALS. FREE BETS ARE NON WITHDRAWABLE. NO FREE BET EXPIRY. ELIGIBILITY RESTRICTIONS AND FURTHER T&CS APPLY.
---
So, with the Opta machine covering the "head" and Sky Bet's Fan Hope survey speaking from the "heart", let's find out which fans made the most realistic predictions.
1. Liverpool
The Reds endured another close call in 2021/22, finishing just one agonising point behind Pep Guardiola's Manchester City. According to Opta's prediction model, however, they are likely to once again stop a Guardiola three-peat by winning their 20th Premier League title. The League Prediction model thinks they have a 50.09% chance of title success, compared to 46.24% for City.
Sky Bet Fan Hope position: 2.1 (+1)
Roughly half of Liverpool fans polled believe they'll finish first. However, the remaining 50% think they'll finish below the top spot and 1% even said the Reds will finish bottom, the latter of which seems odd. Regardless, the average prediction of 2.1 places them neck-and-neck with Manchester City.
2. Manchester City
Pep Guardiola's Premier League champions are out to emulate Sir Alex Ferguson's Manchester United and three-peat the Premier League. City failed their last attempt to do this in 2019/20 but now they're back with a game-changing signing in Erling Haaland, who 75% of fans surveyed by Sky Bet think will be a success in the top flight of English football.
Sky Bet Fan Hope position: 2.1 (=)
A massive 78% of City fans think they'll finish top of the table again. But with that remaining 22% spread out all down the table and not concentrated in second, City's average comes down to 2.1, the same as Liverpool's.
Opta's rating differential between Liverpool and City's title chances is a slender one at less than 5%. Will the goals Haaland brings to an already free-scoring City side be enough to swing the balance in the reigning champions' favour?
3. Tottenham
With Antonio Conte at the helm and a dynamite front three of Harry Kane, Heung-min Son and Dejan Kulusevski, Spurs are a formidable force who must be taken seriously. The data suggests they'll finish third, improving upon last season's fourth-placed finish (but comfortably so). Before a ball is kicked, Opta give them a 70% chance to make the Champions League, higher than all bar City and Liverpool.
Sky Bet Fan Hope position: 3.7 (+1)
Spurs fans are a realistic bunch but ambitious, nevertheless. No one is catching City and Liverpool in their eyes (only a combined 18% think they'll finish in the top two) while a whopping 41% of their fans expect a third-place finish, with 33% plumping for fourth. The average predicted finish is 3.7, same as North London rivals Arsenal.
4. Chelsea
The Blues crashed out of last season's title race and ended up third, and Opta predict they'll slip even further this time around (though not out of the top four given their 62.43% chance of UCL qualification). Still, a strong end to the transfer window could change those fortunes.
Sky Bet Fan Hope position: 2.9 (-1)
15% of Blues fans actually think they can win the title but with 36% and 31% thinking they'll finish second and third respectively, the average position is third in Sky Bet's table (2.9). Interestingly 74% of Blues fans are happy with the club's summer recruitment despite crucial gaps in the squad.
5. Manchester United
Manchester United have done some good transfer business to help Erik ten Hag settle in at the club but they've not actually addressed any of their major needs. Ten Hag's superior coaching should see United improve, even with no investment. But regardless, the data suggests a fifth-placed finish is in store,  with a 25.73% chance to make the Champions League just not quite enough.
Sky Bet Fan Hope position: 4.1 (-1)
Cowed by years of failure, only 9% of United fans believe they can finish in the top two while 28% believe they will finish third, with an equal share of the fanbase expecting a fourth-place finish. 23% think fifth is the best they can hope for (realistic, unless more players come in, with just 51% of United's fanbase happy with their recruitment so far this summer), and so their heart's hopes average out to fourth.
6. Arsenal
The Gunners have spent over £100m for the second-straight summer and now look to have a defence and attack capable of mounting a challenge for that top-four spot. The midfield, however, could hold them back and, according to Opta, it will. They are given just a 21.63% chance of Champions League qualification.
Sky Bet Fan Hope position: 3.7 (-2)
In classic Arsenal fashion, things average out to fourth. Albeit 34% of Arsenal fans think they'll finish third as opposed to 26% who say fourth and 14% who voted for fifth. This all averages out to 4th, and Arsene Wenger would be proud.
7. West Ham
For much of last season, the Hammers looked like they were going to crash the top four before the top four crashed them. They've made some interesting signings for the new season, including 16-goal striker Gianluca Scamacca from Serie A, but the model suggests another finish as the 'best of the rest'.
Sky Bet Fan Hope position: 6.3 (-1)
Hammers fans are feeling only a little bit bold, predicting their side will upset one of the big boys to finish sixth in the league. Though interestingly their votes are spread across fourth (13%) and seventh (15%) with it spiking at sixth (23%).
8. Newcastle
The Magpies are the Premier League's new money, but they're spending it with more restraint than one would expect. The Opta machine has them progressing nicely due to their recent form since Eddie Howe came in and they are expected to finish the season in 8th.
Sky Bet Fan Hope position: 6.9 (-1)
Of course fans have all the hype of new transfers to drive them but even then, they aren't getting carried away. 24% of fans think they'll finish 8th, and a decent chunk think they'll finish higher than that, dragging their average spot to seventh.
9. Leicester City
Leicester City endured a torrid season of injuries in 2021/22 and with the same squad, plus if they have better luck with injuries, the Foxes could improve on their eighth-place showing (and that's just as well because as of writing Leicester are the only side in Europe's top five leagues to have made no signings). Opta's model, however, has them slipping to 9th.
Sky Bet Fan Hope position: 7.2 (-2)
Leicester fans are kind of all over the place in terms of their positional prediction but 23% went for 8th, which is the most common position predicted among Foxes fans; with 10th getting 14% of the vote and sixth getting 13%. There are a decent chunk of votes for third-, fourth- and fifth-placed finishes, too, (all 8%) which averages the result out to seventh.
But, basically, they have no idea what to expect. Heart's all over the place.
10. Aston Villa
Steven Gerrard's Aston Villa felt better value than their 14th-place finish and so it should be no surprise that the underlying data has backed up that "feeling" and forecasts 10th.
Sky Bet Fan Hope position: 8.5 (-1)
Armed with their new signings, including a permanent deal to secure the talismanic Coutinho, Villans are understandably bullish. 21% of them think they'll finish 9th and a massive 78% of them are happy with the summer recruitment so far. Their hearts are full!
---
Sky Bet welcome offer: Bet £5 and get £20
It's a good time to sign up to Sky Bet. Qualifying readers* will get £20 in free bets when they sign up and place a bet of £5. You can follow THIS LINK to claim or click the image below.
NEW CUSTOMERS ONLY. FIRST SINGLE & E/W BET ONLY. ODDS OF 1/1 OR GREATER. 4 X £5 BET TOKENS. FREE BET STAKES NOT INCLUDED IN RETURNS. FREE BETS EXCLUDE VIRTUALS. FREE BETS ARE NON WITHDRAWABLE. NO FREE BET EXPIRY. ELIGIBILITY RESTRICTIONS. FURTHER T&CS APPLY. 18+. BEGAMBLEAWARE.ORG.
---
11. Brighton
Brighton ended last season in ninth but unlike in 2020/21 they kind of overshot their performances in terms of xG and such, which explains the drop down to 11th in Opta's predictions for this year.
Sky Bet Fan Hope position: 8.9 (-2)
Brighton fans don't expect a drop, however. And even though 50% of their fans want a striker, the vast majority of them think Brighton will finish top half. The most voted-for position is actually 12th (15%) but so many people picked a spot between 10th and sixth that the average was unsurprisingly higher. 4% of fans think they'll win the title!
12. Crystal Palace
Patrick Vieira worked wonders with Crystal Palace last season and their summer recruitment has been okay, too, which should make up for the departure of Conor Gallagher and, according to Opta, keep them in the same position.
Sky Bet Fan Hope position: 9.2 (-3)
The most voted-for positions by Palace fans were the miserable 13th (24%) the ambitious sixth (21%). There's even 15% who think they'll win the title, which should account for the majority of the 25% of the Palace fans who believe they have a realistic chance of winning a trophy. That all averages out to ninth, of course.
13. Wolves
Wolves finished 10th last season but that was largely down to José Sa defying reality by having an all-timer of a season. That can't be relied upon to happen again, so they've dropped down to 13th in Opta's predicted Premier League table.
Sky Bet Fan Hope position: 8.6 (-4)
Wolves fans are still high off last season's finish (and perhaps the return of Adama Traoré from his Barcelona loan?) because only 48% of them are satisfied with their transfer business. Yet 16% of Wolves fans think they'll finish seventh and 14% think they'll finish eighth.
14. Everton
Everton just about survived last season, finishing 16th. But Opta reckon they'll climb the table by a couple spots (almost surely because Yerry Mina will be fit this season, of course!).
Sky Bet Fan Hope position: 12.3 (-2)
The Everton fans are truly a confused bunch, with position predictions ranging from 8% thinking they'll somehow finish seventh to 18% thinking they'll just about survive relegation and finish seventeenth.
Their average predicted position of 12.3 is actually the lowest in Sky Bet's Fan Hope survey table, making Everton the 2022/23 Premier League season's most pessimistic fanbase.
15. Leeds
Leeds enter their first season without Marcelo Bielsa and having just sold their two best players. The model sees them take a small jump from last season's 17th-place finish to end in 15th but there is a 32.01% chance they get relegated.
Sky Bet Fan Hope position: 11.5 (-3)
The fans are enchanted by Leeds and the new players they've brought in (74% are happy with their recruitment but 63% would like to see a striker arrive) and 20% of them think they'll finish 10th, but given more of them think they'll finish bottom half than top half (surely a case of head over heart?) the average slips slightly to 11.
16. Brentford
Premier League newcomers Brentford shook up the division with their delightful direct play, and the reintroduction of Christian Eriksen to football itself after his heart attack was a wonderful moment for all. Numbers don't consider sentiment, though, so they're back in 16th with a 32.41% chance of relegation this season.
Sky Bet Fan Hope position: 10.4 (-6)
24% of Brentford fans think they'll finish 13th. The next highest? Fourth! 21% of Brentford fans think they will crack open not just the top six but the top four as well! There's really no more you can add to that, especially as only 68% are satisfied with the transfer business so far.
17. Southampton
The Saints finished 15th last year but despite the arrival of the absolutely terrific Joe Aribo, Opta have them finishing lower than that in 17th, with a 33.90% chance of getting relegated, which is the highest among teams that were in the Premier League last season – with all of the newly promoted sides having a larger than 40% chance to go down.
Sky Bet Fan Hope position: 12.2 (-5)
The power of Aribo has gotten Southampton fans a little bit excited but not too much. While 16% think they'll finish seventeenth, more than 10% also think they'll finish fifteenth, twelfth and even tenth. So their average has shot right up.
18. Fulham
As winners of the Championship, the Opta model understandably doesn't place Fulham higher than 18th.
Sky Bet Fan Hope position: 10.9 (-7)
The Cottagers fanbase are positive, however, that with a more considered approach to transfers compared to the scattergun strategy of three years ago, they'll stay up. Most are realistic, with sixteenth (13%), fifteenth and seventeenth the most commonly expected positions. But the more "dream big" types who think Fulham will finish top half have skewed the results to eleventh.
19. Nottingham Forest
Steve Cooper is a wizard and brought Nottingham Forest up through the play-offs and they have taken a machine gun to the transfer market, nailing more than 10 new signings to bolster their squad. No model could account for that scale of recruitment, however, so they're 19th.
Sky Bet Fan Hope position: 11.3 (-8)
The Forest fans are understandably flying upon their two-decades-plus-in-the-making return to the top flight and their absolutely prolific spending in the summer transfer market (a massive 89% of fans are satisfied with Forest's recruitment).
Forest have two positions where 11% of their fans think they'll finish: fifteenth and tenth. Most of their positional predictions fall in the bottom half but there's enough outlandish ones (6% of them think they'll finish fourth, 5% think they'll be champions!) that the average is stretched to 11th. And the thing is, there is such an X-factor about Forest that you wouldn't be surprised if head followed heart on this one.
20. Bournemouth
Scott Parker, he of the tremendous hair, is back in the Premier League. This time with Bournemouth. Opta are not optimistic for their chances, unfortunately, and they are assigned the highest chance of relegation this season with 44.63%.
Sky Bet Fan Hope position: 11.7 (-8)
The Cherries are moderately confident they'll survive, with 15% of their fans thinking they'll finish fifteenth. However the next highest vote for a single position is 13% thinking they'll finish tenth! Their buoyant fans (69% of whom are happy with their meagre transfer activity) lift their average to twelfth and is clearly a case of heart over head.